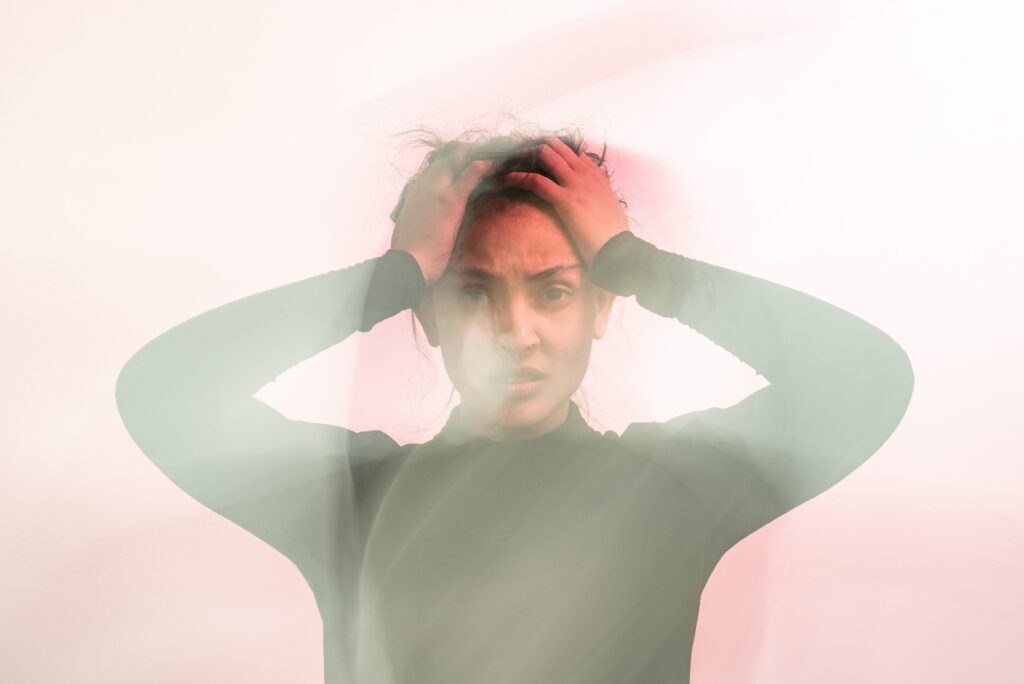 The sound of screams and laughter was alarming.  My family stepped out of winter and into a balmy, 84-degree water-wonderland. Fun was no longer limited to an emotion.  The raw energy of entire families abandoned to having the time of their life filled the indoor water park with enthusiasm. I couldn't wait to experience the exhilaration of watching my kids share in the fun of swimming and cascading down whirly-twirl slides, especially my adventure-junkie daughter who just turned six. 
Her name is "Averie". Give her something to jump off and she'll take the challenge. She slides fearlessly on our cherrywood floors. But instead of amazement and curiosity filling her sweet face, I saw panic and dread as she stepped up to her first waterslide.
"What if I sink?" she asked. "What if people laugh at me if I do it wrong?" and the all important fashion concerns…"What if my bathing suit doesn't go with the color of my nails?" (I forgot to mention that Averie is our in-house fashion expert with *flawless* insight into fashion.)
Anxiety filled her heart. Thoughts of the worst crowded her mind. Fun quickly turned to paralyzing fears of an imagined future. Instead of feeling free, she stood frozen. Instead of getting soaked, she stood panicked. All because of two totally debilitating and fear-based words – "What if?"
Trust me; I get it. If I know one thing, it's fear:
Fear of being too much.
Fear of being not enough.
Fear of bad things happening.
Fear of being disliked.
Fear of failure.
My fear has exploded into full-on panic attacks. My pounding heart and tormented thoughts leave be void of sleep me on many occasions. Too many times, I have missed out on wonderful adventures of my own. I imagine you might very well identify with a word most of us are not comfortable admitting to ourselves or others – Fear.
Fear is something TV commercials say we should not have and if we will just buy their product it will magically go away. Fear is not in style. No one starts out their day saying, "I wonder how many ways I can be afraid today." It is simply a hidden realm of an earful possibilities that haunts all of us.
I don't type these words as an expert; I speak from a place of understanding. I struggle in the trenches alongside you. Every step forward to peace is a struggle—but oh so worth it.
Understanding Fear
Each of my roles—professional counselor, wife, mother, woman—provide me with a unique vantage point regarding fear. I've observed, questioned, and pondered ways to break free from fear for the benefit of my family, my clients, and myself. I've studied fear, placed it under the microscope, analyzed its origins, considered what makes it grow, and most importantly, sought how to eradicate it.
Fear is a byproduct of your thoughts, and your thoughts are incredibly powerful. Proverbs 23:7 says, "As a man thinks, so is he." How you think begins to shape your perception of your identity, God's identity, and the world you live in. For my daughter, fear of the worst caused her to see her reality from a place of danger, but no danger existed. The slide ended in a shallow pool, making it nearly impossible to sink. Her thoughts shaped her perception and ultimately her state of being.
Overcoming Fear
What about you? What is God saying to you in this season of your life? Is fear keeping you from enjoying God's blessings? Like my daughter's moment at the water park, God provides opportunities for us to step out in faith, to accept risk, and to pursue passionate living.
What are your fears? Take a moment to pray and ask God to reveal what fears are resulting from your anxiety-laden thoughts. Write them down, begin to study them. Trust me, you'll start seeing patterns and triggers.
Fear feels so real because your brain literally cannot tell the difference in what is real and what you tell it is real. Humans are God's only creation who possess the ability to imagine. I am often saddened by how I use this amazing gift. You are probably just like me as we tend to use our imagination to picture the worst instead of allowing my imagination, in wonderment, to catch a glimpse of how God can move in our future as we remember all he has done us in the past.
The Bible gives us 366 verses on fear. Isn't that just like the Father to give us everything we need? He even took leap year into consideration. He gives us a verse every day to push fear away so that we might step into his presence. Many of the verses that reveal pathways to peace come from examples of everyday people riddled with imperfections. If you look at these models of faith, you don't have to look too hard to find their fears—and even a few insecurities:
Moses grappled with a serious fear of public speaking.
David stayed awake on many occasions, fearing for his life from a crazy guy in hot pursuit.
Esther feared speaking up to her husband about the coming execution of her people.
Countless stories abound in the Bible concerning normal people like you and me who choose to stand toe-to-toe with fear. They knew the reality, they understood the risk, and yet they trusted God and stepped out in faith, even though they were likely afraid.
Each of these individuals jumped while scared.
The only difference between their story and yours is the outcome. Will you allow your circumstances to dictate your choices?
How to Jump Scared
Averie taught me an important lesson as she stood precariously torn between overwhelming fear and amazing triumph. When she finally jumped into her first ride at the waterpark, she jumped scared. She cried before she laughed. She wavered before she succeeded. My 6 year old daughter taught me about overcoming fear and I have a great hunch what I learned can help you "Jump scared" too.
Keep your eyes off yourself and on Jesus.
When Averie jumped, she made sure she had a direct line of sight into my eyes. She was not looking at the source of her fear, she was looking for my confidence that everything was going to be ok. It brought back memories of my childhood when I felt lost in a big store with my parents right next to me or when I left for that annual first day of school. As long as I could see their confidence in me, I knew there was nothing to fear.
My fear is highest when I make myself lord of my life. Instinctively, I know that I'm not capable to rule and reign in my life. I know my frailties, my weaknesses, and everything in between. Jesus is the only one who is secure, the only one perfect, and the only one who has all the answers, all the resources, and all the capabilities. Go back to the fears you wrote down a moment ago. Are you putting too many expectations on yourself and not on God? If so, take another moment and pray. Confess this fear and allow your heart to surrender to his rule and reign. I promise, where he is there is no fear. His presence is perfect love, and therefore fear cannot exist there (I John 4:18).
Realize that what you focus on will shape your perception.
Averie learned another essential life lesson that day. Although she could not put it all into words, she learned that whatever we position ourselves in front of every day is what becomes our perception of life, ourselves, God and everything else.
Your focus determines your direction. Remember riding a bike? Your eyes naturally guided you toward your destination. Your mind is incredibly powerful. Moment by moment, you're presented with an opportunity: Are you going to focus on truth, or are you going to focus on worst-case scenarios? Think about this: the windshield of your car is the biggest glass surface, and the rear-view mirrors are the smallest. Why? Because you need to look where you're going and only glimpse where you've been. You should be aware of what's around you, but your greatest focus is where you're headed. Focus on God's goodness and place your hope in all that he has for you on the road ahead.
Speak truth and create anchors.
When Averie climbed out of the pool she was a mixed bundle of emotions that ranged from "WOW! Let's do that again!" to "Never again will I take that risk." She was forming a script for her life that would create ripples every day for the rest of her life. That's why I made a point to give her the first words to her script. Rather focusing on the fear and what might have happened, I told her, "I am so proud of you!. Look what you did!". Although we often lose sight of it, God has also given us his word that becomes the script we follow in life.
Just as your focus is important, so are your words. Proverbs 18:21 tells us that our words have the power to bring life or death. As a woman, you speak around 20,000 words daily. But what about those secret words, the ones no one hears? Counselors frequently use the phrase "internal dialogue." My guess is that your daily internal dialogue could reach into the millions. Those words are powerful! Instead of speaking fear, speak truth. Here are a few suggestions for anchors: "God is good. God is good at being God. I am loved. I am chosen. I am valuable." Write these down, memorize them, speak them often to others, to yourself, and even to your pet. These truth statements become anchors that will stabilize you through the storms of fear and usher you into his presence of peace.
Join with others.
After watching Averie made the decision over and over again to jump scared I began to recognize a pattern. She is highly social, so seeing her talking to other kids was not a surprise. But I was surprised, and pleased, to see that the kids she was talking with were the ones who were also jumping scared. She naturally created a support system of strangers who encouraged and influenced her that wonderful day at the waterpark.
Create a circle of friends you can pray with, stand with, and encourage. Being able to talk about your fears and then have someone pray with you is powerful. In addition to the previous three tools, I've also found that talking with my husband about my fears shatters my fears more than anything else. Getting my fears out of my head allows for a filtration process to occur. Otherwise, my thoughts fester and become contaminated, and then the contamination becomes like a disease infiltrating my mind and eroding my faith.
You and I will continue to face fear. Fear is inevitable. Each time you're presented with fear, you're also presented with a chance to walk in faith. I promise you: his peace truly does surpass all understanding. No matter how big or small the storms of your life, rest in his arms of peace. May God's grace cover you.
Blessings to you,
Melissa